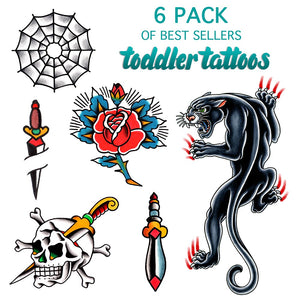 6 PACK OF OUR BEST SELLERS #3 - Save 20%
Toddler Tattoos
Regular price $12.00 Sale
6 PACK OF OUR BEST SELLERS #3 by Tim Hendricks and Javier DeLuna.
Including:  
Panther - Dimensions: 3" x 5.5"
Rose - Dimensions: 3" x 3"
Spider Web - Dimensions: 2.5" x 2.5"
Skull and Dager - Dimensions: 2.5" x 3"
2 Daggers - Dimensions: 1.5" x 3"
Toddler Temporary tattoo designs are the same American Traditional artwork you would find displayed on the walls of a respectable tattoo shop. Our temporary tattoos look even better than the ones on Mom and Dad. Designed by real tattoo artists and made just the right size for kids, because all kids are cool.
About Toddler Tattoos
Our story is simple. Tim Hendricks is a veteran tattoo artist, husband, and father of two boys. The temporary tattoos Tim purchased from vending machines were poorly designed and made, so he took it upon himself to make better ones. He made oodles of them, enough for his own boys and also as give-aways for parents who got tattooed at his shop. They were such a hit that Tim asked his friend and coworker Javier DeLuna to add his talent and designs in creating more. They partnered up and together they made a large selection of properly designed temporary tattoos just for kids. 
---